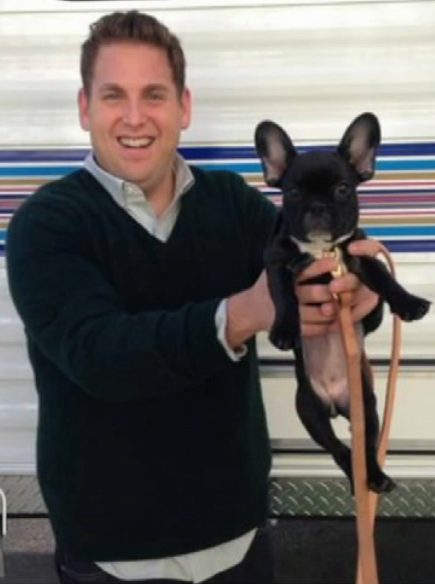 JJonah Hill couldn't be prouder of his new "adopted daughter" Carmela, his French Bulldog.
"She's incredible. She's the light of my life," Jonah told Ellen Degeneres.
Jonah Hill has a new love of his life, his French Bulldog Carmela.
Carmela can do more than sit and stay, which she does do very well, but she won't move until Jonah gives the command.
"If you walk around the room, and even throw treats on the floor, she won't move until you say 'OK," the two-time Oscar nominee said. "I don't want to brag, but she might be a genius."
The beaming papa showed off his pictures of his little pup that included shots from set and in the arms of Carmela's Uncle Chan-Man, Jonah's 21 Jump Street co-star Channing Tatum.
"He was kind of helping me whip her into shape. And she respected her more than me," Jonah said.
The Wolf Of Wall Street star took the more motherly role with his dog and allowed Channing to lay down the law.
"I'm like the mom who can't disappoint her daughter. I'm like, 'I love her too much,' and Chan's like the strong guy who makes sure things don't go too bad," he explained.
The actor spends every day with his "best friend" Carmela and now he never has to leave her behind. Ellen presented Jonah with cuff links and a bow tie with Carmela's actual face imprinted on each.
Watch the Academy Awards on March 2 to see if Jonah wears his puppy-dog accessories and if he wins for Best Supporting Actor.