Canine health registries provide resources for breeders and owners of purebred dogs to research health records on an individual dog or bitch, and its relatives; to maintain information on the health issues prevalent in specific breeds; and to establish a recommended protocol for breed specific health screening, and recognizing dogs tested in accordance with that protocol.
With data available and collected from health registries, breeders can build vertical pedigrees. Such data can be useful in providing information about a dog's close relatives (as opposed to its ancestors), and in researching prospective or planned breeding's.
In order to make it easier for breeders, buyers, and researchers to obtain health information on individual dogs, the AKC Canine Health Foundation (AKC/CHF) and the Orthopedic Foundation for Animals (OFA) have jointly sponsored the formation of the Canine Health Information Center (CHIC). This centralized database collects test results on individual dogs from multiple registries, providing breeders with a single "pool" of data that they may consult in making breeding choices.
The FBDCA joined CHIC in order to centralize available health information on French Bulldogs. We are initially requiring that a dog be entered in a hip, eye, patella, and cardiac (heart) registry. We also recommend additional testing for thyroid and juvenile cataracts conditions. In addition to the breed specific requirements we summarized above and list in more detail below, a CHIC requirement across all participating breeds is that the dog must be permanently identified via microchip or tattoo in order to qualify for a CHIC number.
The CHIC registry is a dynamic one so as time passes we will be able to change our breed's requirements in accordance with changes in the incidences of various health conditions. Below is a list of the CHIC registry required and recommended exams: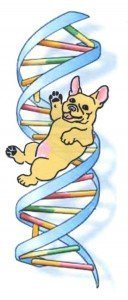 Hip Dysplasia
OFA Evaluation, OVC Evaluation, or PennHIP Evaluation
Eye Examination (by a boarded ACVO Ophthalmologist- Annual recertification recommended)
Results registered with OFA or Results registered with CERF
Patellar Luxation
OFA Evaluation
Cardiac Evaluation
Congenital Cardiac Exam (Echocardiagrams recommended but not required) or Advanced Cardiac Exam (Echocardiograms recommended but not required)
Autoimmune Thyroiditis (optional)
OFA evaluation (from an approved laboratory)
Juvenile Cataracts (optional)
Juvenile Cataracts DNA Test (from an approved laboratory)
For additional information on the CHIC program, visit the .