The FBDCA Breeder Listing Service is provided as a courtesy to our members and the public. The FBDCA is dedicated to promoting and protecting

 the French Bulldog and its standard (the ideal for which all reputable breeders strive). Our members must have sponsors and agree to adhere to our Code of Ethics which includes above-standard breeding decisions. Click here for a copy of the FBDCA Code of Ethics.
Although we hope our members will comply with our goal of excellence in breeding, the FBDCA nor its officers and board of directors do not expressly or impliedly warranty or guarantee, endorse or rate breeders, their kennels or their dogs. Nor does the FBDCA, its officers, or its board of directors assume any responsibility for the quality, health, or temperament of any dog. We encourage all buyers to be informed about adding a dog to their household and should exercise prudent business decisions in purchasing a puppy or dog.  We have compiled a list of Questions to ask a breeder that we encourage you to explore with all potential canine sources.
The FBDCA reserves the right to refuse or withdraw any listing without notice which operates in violation of the FBDCA Code of Ethics or is not in good standing with the AKC or the FBDCA.
By continuing  you acknowledge that you have read, understand, and accept the limitations and conditions above and release the FBDCA, its officers, board of directors, agents or representatives of any claims arising out of the use of this web site.
For any transaction involving French Bulldogs, you should have a written contract (NOT an e-mail), mutually agreed upon, and signed by all parties involved.  Purchasing a dog is a business transaction and a contract is a means of laying out the terms of the purchase.  Contracts generally include a health guarantee, return policy, identification of the dog being purchased, information on AKC registration, and a 3 generation pedigree.
BREEDERS PLEASE NOTE:  In order to be listed a breeder must have been a club member in good standing for a minimum of three consecutive years, have bred at least one French Bulldog Conformation Champion, and have a clear sales contract stating their health guarantee and return policy.  Please fill out the Breeder Listing Service Application.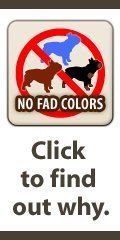 If you have any questions regarding the Breeder's Listing Service please contact the .
CAUTION: Please click French Bulldog Breed Standard to read about what characteristics are desirable, and which are considered disqualifications. A reputable breeder will NOT breed or sell dogs with disqualifying colors. These include blue, liver, and black-and-tan (the coat that some dachshunds and that dobermans have). Although some people advertise and sell (usually for a very inflated price) Frenchies with what they call "rare" colors, particularly "blue," this is considered unacceptable by the FBDCA and we recommend that you seek out reputable breeders who breed to our Standard. Canning Recipes.
ALABAMA
Harriette Cameron – Cam's
Phenix City, 334-291-9741, cambul@aol.com
ARIZONA
Mike Doty – Rising Star French Bulldogs
Peoria, 623-566-9848, Rsgstr@Cox.net
Chuck Coyle – Del Sol's Kennels
Showlow, luckycoyle@aol.com
Sandy Fox – Fox Canyon French Bulldogs
Peoria, 602-758-4338
sandyfoxwhl@hotmail.com
CALIFORNIA
Arlie Amarie Alford – LeBull
Saint Paul, 612-963-1100 or 925-846-2585,
arlie@ardesigninc.com,
Amanda Ashley – Allusion French Bulldogs, Perm. Reg'd.
Murrieta, 951-677-4062, amanda@allusiondogs.com
Diana Bates – Jolie French Bulldogs
Santa Monica, 310-422-9202,  joliefrenchbulldogs@gmail.com
Rhonda Cole – deNoble French Bulldogs
Southern California, a.cole6@verizon.net
Ken Copen – Copen's French Bulldogs
Alameda, kencopen@yahoo.com
Jacquie Duran– VonDuran Frenchies
Santa Rosa, vdboxers@sonic.net
Yvette Ellingwood-Yvet's
Thousand Oaks, kadijack@aol.com
818-523-7570
Connie Hughes – Mon Petit Chou
Newport Beach, monpetit@roadrunner.com
Linda & Eric Jacobs – Magic Time Frenchies
Burbank, 818-955-8172 or 818-557-0566
Michelle Jones – Mt. Bliss French Bulldogs
Monrovia, 626-359-5652,
Kathy Lerchenmuller – Kamibulldogs
Camarillo, 805-445-2960
kamibulldogs@aol.com
Linda Maugeri – BayHill French Bulldogs
Los Angeles area, L.Maugeri@gpj.com
Jane Norris – Fulla Bull French Bulldogs
Sebastopol, 707-823-5320, fullabullo@aol.com
Carole Salisbury – Carob Frenchies
Fallbrook, 760-723-3773,
Alvin Samala – Maisonette de La Reine
Southern California, lareinefrenchies@yahoo.com
Colette Seror-Secher – Lefox
Laytonville, 707-984-8137 or 707-984-8167, lefox@saber.net
Carol Shenk – BAR-NB Kennels
Newberry Springs, nbchenil@exede.net
CANADA
Bev Anderson – Timpieces, Perm Reg'd
Vernon, B.C., 780-968-9191,bafrogdog@gmail.com
Karen Cram – Karendon Perm. Reg'd. French Bulldogs
Calabogie, Ontario 613-752-2382 karen@karendonfrenchbulldogs.com
Dorit Fischler, DVM – Belboulecan French Bulldogs
613-831-4580 daytime, 613-256-3363 evening
Shelley St. John – Robobull French Bulldogs, Perm. Reg'd.
905-685-7626
COLORADO

Tina Olsen – Starlette Frenchies
Peyton, 719-510-512, lilnoel0@hotmail.com
Janis Stadler – Consort Frenchbulldogs
Nathrop, 719-539-4080, otmsib@gmail.com
CONNECTICUT
Tracy Cavaciuti – Hollycroft French Bulldogs
Granby, 860-653-9188, hollycroft@cox.net
FLORIDA
Rachel Botts – Envybull
Pensacola,  , 850-982-8572
Jean Burns – Floresta Farms
Boynton Beach, florestaah@earthlink.net
Beth A. Carr – McBeth's
Weeki Wachee, mcbeths1@yahoo.com
Susan Cooper – Trilogy French Bulldogs, Perm reg'd
,
Sonja Kaye Mayfield-Doherty – Sonja's Frenchies
Ocala, ttalltim@aol.com
Richard Ludwig – Glynabbey French Bulldogs
Crystal River, 352-564-2765,
Jerry Mayfield – Jerrys Frenchies
Ocklawaha, jerryocala@aol.com
Robin Meletti – Kobi Show Dogs
Jupiter, 864-991-9274, rmilli1056@aol.com
Karen Robertson – Rock'n Roll French Bulldogs
Silver Springs, (352) 625-0665, rockfb@ptd.net
Becky Smith – Urban French Bulldogs
Ocala, urbanfrenchies@hotmail.com
Richard & Sherry Wolkowsky – Tinkertime Frenchies
Port St Lucie, 772-571-2192, ttfrenchies@aol.com
GEORGIA
Steve Framke – Framke's French Bulldogs
Richmond Hill, 912-596-3315, sframke49@gmail.com
Kathi Liebe — Starcreek Frenchies
303-746-1601 starcreekfrenchies@gmail.com
Lois Milligan – Oolala
Barnesville, millsho@netzero.com
HAWAII
Michael & Jacqueline Rabang – Rabang French Bulldogs
Kapolei, mjrabang@hawaii.rr.com

IDAHO
Pat Gonzales – Padlock Boxers and Frenchies
Nampa, 208-463-6310, padlock1@q.com
ILLINOIS
Sheri Alkevicius – Enchante French Bulldogs
Wheaton, 331-225-9682, enchantefrenchies@yahoo.com
Merri Ann Gonzalez – Chato Kennel
Park Forest, 708-805-9333,
INDIANA
Billie Bunch – B&B Bostons and Frenchies
Elkhart, 574-674-8675, bbunch1024@aol.com
Nelson Eylander – Eybul
Demotte, 219-987-2010, hotdog@netnitco.net
Dana H. Riotte – Danall's Frenchies
Westville, Danalls@aol.com
Sandee White – Nicolerin
Boonville, 812-897-1284, nicolerin@hughes.net
IOWA
Gayle Lopez – Fiesta Frenchies
Council Bluffs 712-366-1881, fiesta4@cox.net
Theresa Wilson – KOTUR, Reg'd
Elkader 608-509-2789, KOTURfrenchies@gmail.com
KANSAS
Edward C. Doherty – House of Tucks Frenchies
Independence, edoherty@cableone.net
Joan Gfeller – Gfeller Bulldogs
Chapman, 785-223-1974,
Linda Heins – TLH French Bulldogs
Emporia, 620-343-6142, linda.heins@cableone.biz
Chris Hill – Hillbuckle's French Bulldogs
Stillwell, 913-707-1710, HILLCHRIS5421@aol.com
Donna Stoffer – Twin Lakes
Louisburg, twinlakes@sofnet.com
KENTUCKY
Carol L. O'Bryant – Tete-A-Tete
Louisville, clobryant@aol.com
LOUISIANA
Vivianne Hulsey – Vixbull French Bulldogs
Ponchatoula, ,
Luis & Patty Sosa – Bandog French Bulldogs
Mandeville, http://www.bandogfrenchies.com/
MARYLAND
Virginia Cowger – Krislyn Frenchies
Stevensville, krislynfrenchies@gmail.com
Darrell Mulkey – Couture French Bulldogs
West River,  (443) 607-6429, info@couturefrenchbulldogs.com
Ronald Readmond & Suzanne Orban-Stagle – JustUs
Trappe, suzanne@justusdogs.com or ron@readmond.com
Elisabeth McNeil – Jubilee Farm Kennel
Crownsville, 410-987-1327, rmcneil@starpower.net
MASSACHUSETTS
Billy Covalucci – Campcovo French Bulldogs
Stoneham, 781-718-5015, bcovalucci@aol.com
Olga Frey – MarNo
Dedham, 781-789-4041, podojdy@yahoo.com
Gale Golden – Morgan Manor French Bulldogs
Marlborough, 508-460-0171 or 508-308-1361
gale@g2communicationsgroup.com
Laurie LaBonte – LaBonte's Frenchies
Palmer, 413-283-9305, labontebulldogs@comcast.net
Vincent Schettino, Lorraine Schettino, Lorene Schettino
East Boston, 617-567-5215, captcoyot@aol.com
www.shadyharborfrenchbulldogs.com
Penny Wyatt – Serendipity French Bulldogs
Middleborough, 508-930-8981, janpen@comcast.net
MICHIGAN
Debbie Ecarius — Suirac
Chelsea, 734-657-4953, suirac@yahoo.come
www.suiracfrenchbulldogs.com
Martha Dobbins & Shirley Knaack – Encore
Marshall, 269-781-2351, battears@encorefrenchbulldogs.com
Debbie Fazica – Fronteer
Howell, 517-402-3787
www.fronteerfrenchies.com
Juanita & Vince Imperiale – Imperiale French Bulldogs
St Clair Shores, 586-772-6232 buldane@wideopenwest.com
Renee Kerkstra – Swab – Redfern French Bulldogs
Ada, 616-676-3417, redfernfbd@att.net
Lori Krese — Parlez Vous Frenchies
Clinton Township, pvfrenchies@mac.com
Ray Jenkins – Wonder Bull French Bulldogs
Taylor, 313-354-4312
Beverly McCann – Crestagard Frenchies
Goodrich, 810-636-2353, crestagardfrenchies@centurylink.net
Susan Misch – Valpodane French Bulldogs
Leonard, 248-628-5083, valpodane@yahoo.com
Susan and Dick Simon – EPIC French Bulldogs
Kalamazoo, epicfrogs@gmail.com
231-645-5658, 231-620-8686
MINNESOTA
Jane Flowers – Evergreen French Bulldogs
Buffalo, 763-682-3366, 612-747-5770, jsevrgrn@aol.com
MISSISSIPPI
Della Grant – Sweet T Bulls
Byhalia, 901-674-7804, dellagrant01@yahoo.com
Roxanne Hilsman – Hilsman
Jackson, 601-366-5171, hilsman@bellsouth.net
Rick Ly -Rickly's French Bulldogs
Biloxi , Ms
228-243-9007, Italchin@aol.com
Jayne Palmer – Fourstar Kennel
Clinton, 601-924-1693, Jayne.Palmer@yahoo.com
MISSOURI
Diane Burvee – Qazara French Bulldogs
Kansas City, 816-812-8888, Qazara1@yahoo.com
www.qazara.com
Kathy Clayton – Chitawee Frenchies
Southwest City, chitawee@netins.net
Stephani Luedde – Ruchi French Bulldogs
Strafford, 417-496-0074, stephanidave@gmail.com
NEW JERSEY
Ann Marie Hubbard – Londonderry
Freehold, 732-431-0535, amhubbard@aol.com
NEW YORK
Kristy Hodolitz
Rockville Center, 860-874-7952, gothamfrenchies@gmail.com
Lynn McAuley – Marydell
Smithtown, 631-366-3190, lm103212@aol.com
www.marydellfrenchbulldogs.com
Monica Schott – Hot Schott
Red Hook,  hotschottfrenchies@hvc.rr.com
www.hotschottfrenchbulldogs.com
Bruce Schultz Jr – LimahlBullies
Canandaigua, LimahlBullies@aol.com
www.limahlbullies.com
Elena Siegman – Rocky Dell
White Plains, ERS123EZ@aol.com
NORTH CAROLINA
John Nowicki – Adore French Bulldogs
Snow Camp, johnnowicki@hotmail.com
Peggy Roderick – Rippling Water Frenchies
Bryson City, rwdogs@earthlink.net
OHIO
LuAnn Belock – Fayme French bulldogs Reg'd
Cincinnati, ,
Karen Brott  — Chambord French Bulldogs
Hartville, 330-877-1972
chambordfrenchbulldogs@neo.rr.com
Donna Cron – Matisse French Bulldogs
Dayton, 937-254-9517 dcron@woh.rr.com
James Dalton – Fabelhaft French Bulldogs
Portsmouth, 740-353-8243, fabelhaft@roadrunner.com
Barbara Graham – Kandu French Bulldogs
Cincinnati, 513-741-8772, kandu@fuse.net
Robin Hannon – Dreamland French Bulldogs
Cleveland, 216-702-2102, Frenchies4me@sbcglobal.net
Lori Hunt – Assisi French Bulldogs
North Olmstead, 440-668-5728 AssisiFrenchies@aol.com
Jill Neidig – Bella Ridge French Bulldogs
Canfield, neiboston@aol.com
Jeanne Williams – Gailwin
Jefferson, 330-883-8376, gailwinbullies@att.net
Sandy Wilson – Stellar French Bulldogs
Eaton, 937-472-3663 stellarfrenchies@aol.com
Tiffany Dukes – Dulet French Bulldogs
Fairborn, 937-901-7524, duletfrenchies@aol.com
OKLAHOMA
Karen Fore-Monroe – Fancibul French Bulldogs
Oklahoma City, 405.250.3171, fancibul@aol.com
Pam & Robert Kelle – Klassebulls French Bulldogs
Dewey, 405-880-0749, Klassebulls@gmail.com
Linda Moore – Concharty
Tulsa, Concharty@att.net
OREGON
Sharon & Calvin Dykes – Trés Beau Frenchies (Reg'd)
LaGrande, tresbeaufrenchies@eoni.com
Joyce & Chris Mitchell – Baohuao Farms
Lebanon, 541-259-6668 baohuao@aol.com
PENNSYLVANIA
Pat Berry – Petit Cherie
Collegeville, (610)-508-0410
Janice Galiszewski – Joy French Bulldogs
Pittsburgh, janjoy@earthlink.net
Jacqueline Griffin — JaPaCa's French Bulldogs
Perkasie, 215-453-8761
Tracy Logan – Northern Light French bulldogs
Lower Burrel, 724-448-9947
northernlightfrenchies@yahoo.com
Kelley Werkheiser – Kelmars French Bulldogs
Schuylkill Haven, 215-721-9773, kelly@kelmarsfrenchbulldogs.com
Gwenn Weyandt – Weywood
Derry, 724-539-1421, gwey6969@aol.com
SOUTH CAROLINA
Katie Jerozal – Lucida Frenchies
Taylors, katiejerozal@gmail.com
Necia Metzger – Metzger's Bulldogs
Easley, (864) 855-6922, metzgersbulldogs@charter.net
TENNESSEE
Barbara Byrum – Byrum's French Bulldogs
Oak Ridge, 865-482-3037, babyrum@att.net
Andrea Jiles
Sevierville, 865-686-2503, Smokybull@aol.com
Diane McMurray– Hallmark
Sevierville, 865-803-5946, Cbtoo2@aol.com
Yana Miklos – Lionheart Kennels
Crossville, 931-788-1487, Lionbulls@aol.com
Kathy White – Sundance French Bulldogs
Knoxville, 865-406-2100, SundanceBT@yahoo.com
TEXAS
Tara Boyle – Ebonyhills French Bulldogs
Graham, 940-550-5770
Susan Caton – Maxime French Bulldogs
Brenham, artbug222@yahoo.com
Karol Dreibelbis – Heart Of Texas French Bulldogs
Magnolia,  832-934-0837,  karold254@gmail.com
Nicholle Hoke – HaloRidge French Bulldogs
Fredericksburg,  nicholle@haloridge.com
Mike Loller – Legacy French Bulldogs
Oak Leaf, 972-617-2870, michaelloller@sbcglobal.net
Linda McKee – d'Mckee
Pleasanton, 830-569-1896, lmmckee@toast.net
Constance Parker – POVRLRD French Bulldogs
Grand Prairie, webmaster@dogstop.com
Stephanie S. Roberts – Sto-Rob French Bulldogs
Grand Prairie, ssr030949@att.net
UTAH
Karen Adams – Holladay French Bulldogs
Salt Lake City, 801-272-2201, karenadams801@gmail.com
VERMONT
Vickie Haggas – Greenmont
Brandon, greenmont2000@comcast.net
Jeslyn Hastings – Mar-Lyn
Williston, marlyn.kennel@mac.com
Adrienne Soler – Dos Martinos , LLC
Royalton,  dosmartinos@gmail.com
802-299-8295
VIRGINIA
Susan Cherwa – Chersan French Bulldogs
Virginia Beach, frogk9@verizon.net
Karen Norris – Sandyhook
Richmond, 804-740-4561, sandyhook@karennorris.com
WASHINGTON
Michelle Lewis – 2 Stars French Bulldogs
Tacoma, mrenlew@gmaill.com
Richard & Michelle Shannon – Smokey Valley Kennel
Toledo, 360-864-6116, smokeyvalley@toledotel.com
Jamie Wilke – Frenchescas French Bulldogs
Spokane, 509-893-2792, rkfdbay@aol.com
WEST VIRGINIA
Beth Thornton – Champagne French Bulldogs
Vienna, 304-483-5430, beththornton@hotmail.com
WISCONSIN
Merri Ann Gonzalez – Chato Kennel
Shell Lake, 715-349-5852,
Jody Kott – Gypsy Canyon Bulldogs
Newton, 920-905-9940 or 920-693-8877,  jodykott@yahoo.com
Rhonda Waller — Peach Hill French Bulldogs
Waukesha, waller4737@yahoo.com