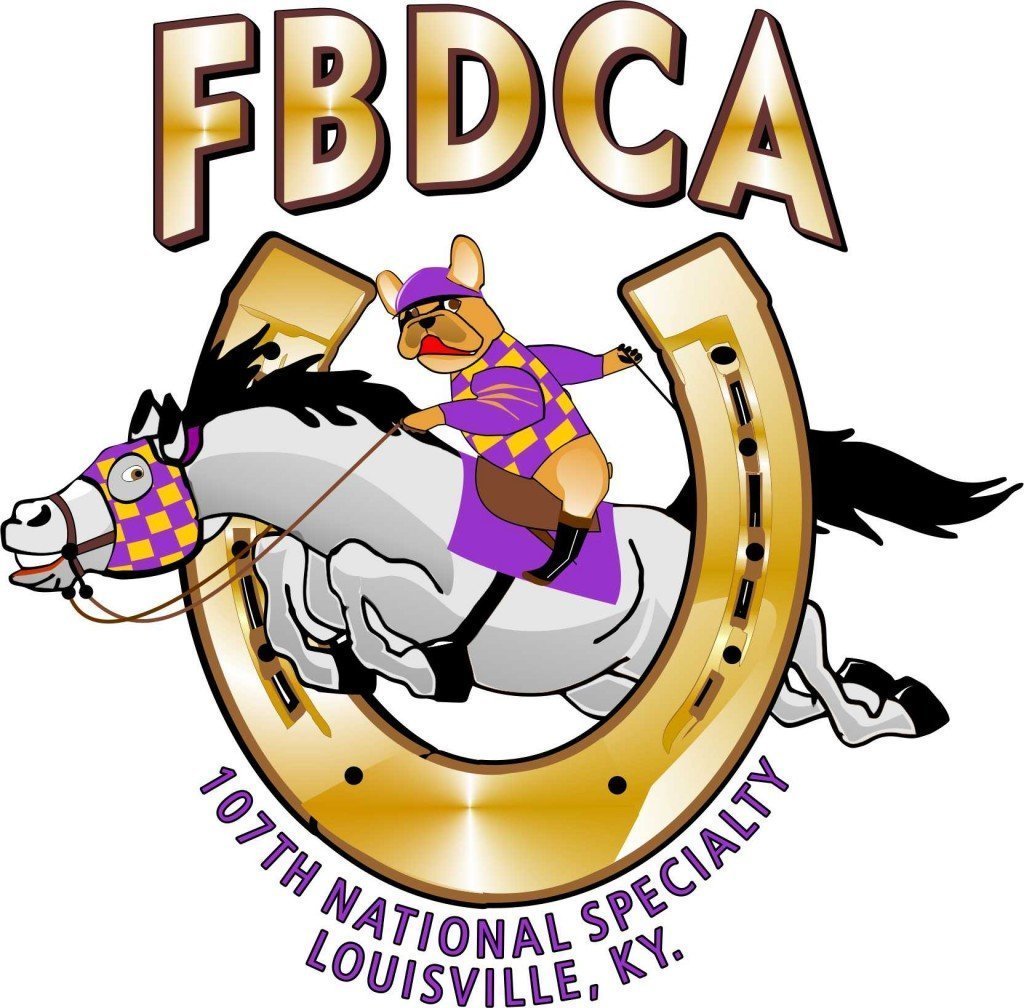 The 2015 FBDCA National Specialty was hosted in Louisville, Kentucky, from October 5, 2015 – October 9, 2015.
SHOW ENTRIES Closed on September 16, 2015
PREMIUM LIST
2015 FBDCA National Specialty Premium List (Includes Regional and National Specialties, and Obedience and Rally Trials)
SHOW CATALOG
No longer available.
TROPHY SPONSORSHIP
Trophy Sponsorship opportunities closed for the 2015 National and Independent Specialties and the Sweepstakes competition.

EVENTS
Below was the schedule for the 2015 National Specialty Events.

REGISTRATION FOR EVENTS Closed on September 22, 2015.
Health Clinics (Registration Information)
Monday, October 5, 2015
8:00 am Obedience and Rally Trials, Health Clinics
FBDCA Independent Dog Classes/Non Regular Classes
7:00 – 9:00 pm Kentucky Derby Hat and Mint Julep Welcome Party Best Human Hat/Best Dog Hat/Best Team Hat (More Information)
Tuesday, October 6, 2015
8:00 am FBDCA Independent Specialty Bitch Classes/Best of Breed
6:00 pm Mint Julep Dinner and Rescue Parade
AKC Beginner Puppy Competition
Wednesday, October 7, 2015
8:00 am FBDCA National Sweepstakes/Veteran Sweepstakes
8:00 am – 5 pm Agility Trial (To be held off site)  Final 2015 AGILITY Premium FBDCA 10 15
1:00 – 3:00 pm Breeder's Education Seminar – Gale Golden, Breeding Smart
2:30 – 5:00 pm Judge's Education Seminar
3:00 – 5:00 pm Breeder's Education Seminar – Dr. Paula Henthorn, Cystinuria, presented by the Health and Genetics Committee
6:00 – 9:00 pm Top Twenty Event (Top Twenty entries closed on August 5, 2015)
Thursday, October 8, 2015
8:00 am FBDCA National Specialty – Dogs/Bitch Classes
Lunch – Parade of Veterans and Title Holders
Post lunch – Resume National classes
30 minutes after Classes – Annual Meeting
4:00 pm to 5:00 pm Louisville Tours – Depart from the hotel at 3:45pm. You may choose to participate in only one of the tours, since they each run simultaneously.
Friday, October 9, 2015
8:00 am Jr. Showmanship, Veteran Dog/Bitch, BOB followed by Stud Dog and Brood Bitch.
15 minutes following, Judging of Brood Bitch, Special attraction/Breeders Class
6:00 – 8:00 pm Awards Banquet and Charitable Foundation Silent Auction
NATIONAL SPECIALTY LOGO WEAR
No longer available.
HOTEL INFORMATION
Crown Plaza
Louisville, KY
888-233-9527
JUDGE LINEUP
Janice Pardue –Dogs and intersex classes
Joe Gregory – Bitch Classes
Joyce Mitchell – Sweepstakes
Paul Pearce – Independent Specialty
SHOW OFFICIALS
Show Chairs
Donna Stoffer,
Scott Holmes,
Obedience and Rally Chair
Virginia Rowland,
Agility Chair
Michelle Hrnchar,
Show Treasurer
Susan Neidlinger,
Webmaster
Jeff Hanneson,
SHOW COMMITTEES
Catalog Ads
Billy Huntington,
Lorene Schettino,
Chief Ring Stewards
Tonda Wright
Peggy Kates
Show Grounds
Robert Smith
Stephen Miller,
Health Clinics
Dr. Ross, DVM
Hospitality
Kathy McNabb
Debra Mattingly,
Judges Education
Virginia Rowland,
Puppy Competition
Donna Stoffer,
Scott Holmes
Rescue Parade
Lindsay Revels,
RV Parking
Donna Stoffer
CF Silent Auction
Camille Stillitano and Gary Bachman
Raffle
Melissa Bowersock,
State Sherpa/Baskets
Lisa Gulas,
Top Twenty
Becky Smith,
Tours
David Johnson,
Trophies
Carol O'Bryant,
Vendors
Melanie Starr,
Veterans & Titleholders Parade
Gale Golden,
Welcome Party & Hat Affair
Jason Huff,
Welcome Bags
Sandee White,